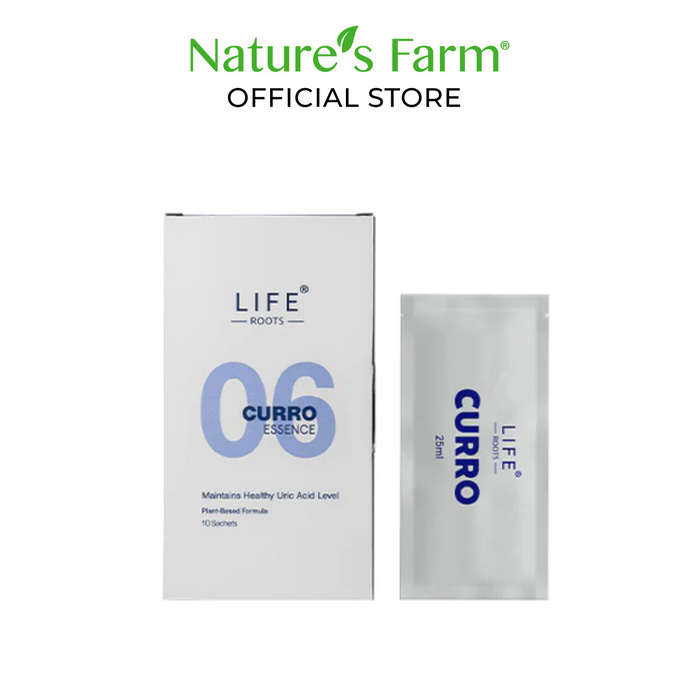 Life Roots Curro Essence 10 sachets
Curro Essence maintains healthy uric acid levels for healthy and flexible joints using natural plant-based bioactives such as flavonoids. These bioactives promote anti-oxidative and anti-inflammatory processes in the body, helping to manage discomforts commonly associated with high levels of uric acid.
Benefits
Supports healthy uric acid level
Helps relieve pain and swelling
Promotes healthy and flexible joints
Individual responses may vary. For sustained results we recommend taking this product for at least a week.
Active Ingredients (per sachet)
Cherry extract (1.36g), Ginger extract (1.36g), White chrysanthemum flower (1.09g), Pandan leaf (0.82g), Nettle (0.82g), Fructus ligustri lucidi extract (0.55g) 
Suitable for
Individuals currently experiencing acute symptoms associated with elevated uric acid levels.
Direction
One to two sachets daily.
Storage
Store in a cool place, away from direct sunlight.
Caution
For those on medication, pregnant or nursing, consult a doctor before use. If symptoms persist, stop use and consult a doctor. Keep out of reach of children. This product is not intended to diagnose, treat, cure, or prevent any disease.
Gluten-free and Vegan-friendly