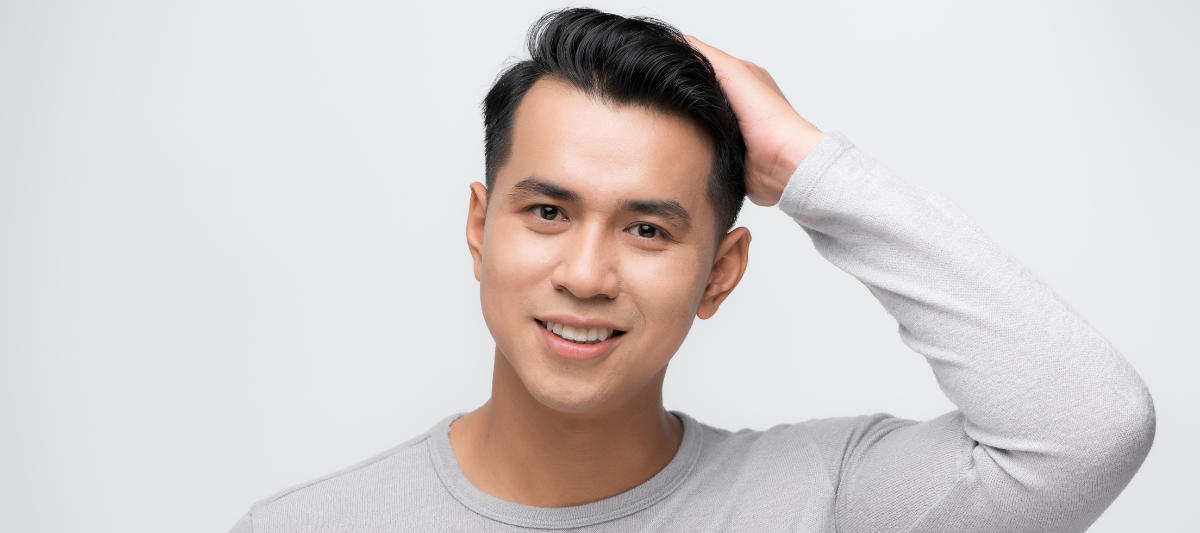 Do you have "hair problem"?
Whether it is boys or girls, maintaining personal hygiene has always been the most basic social etiquette. According to a survey, 55% of the first impressions after the two people met depended on the "look and feel", followed by the content of the conversation. In appearance, especially hair, not only can enhance a person's face value, spirit, but also highlight their own temperament.
For many female friends, shampooing always lead to losing a lot of hair every day. For people who have hair loss or thin hair, how to grow hair is an annoying problem. In fact, in addition to paying attention to the nutrients needed to replenish hair, the growth of hair also depends on the attention paid to the nutrition of the scalp, such as vitamins, proteins and minerals. If you want a black and shiny hair, be sure to take notes of the following nutrients that are good for hair growth.
1. Vitamin B

 
According to research, Vitamin B can help the metabolism of protein, sugar and fat in the body, effectively promote the nutrient supply of hair and skin nails, and achieve the effect of helping hair growth. For example, millet is known as one of the most vitamin-rich foods in dry food.
2. Vitamin E
Modern medical research has found that people with symptoms of hair loss are often due to a lack of Vitamin E. The antioxidant properties of vitamin E are known to effectively inhibit lipid peroxidation, dilate blood vessels, strengthen hair follicles, and improve blood circulation in the scalp, thereby promoting hair growth.
In addition, Vitamin E is also effective in inhibiting sunburn, which is especially important for scalp that is exposed to direct sunlight.
3. Amino acids
Amino acids are the most basic components of hair proteins. Protein-rich foods are digested by the stomach and become amino acids, which pass through the blood circulation to the roots of the hair and then keratize into hair. Among them, cystine (Cystine) can accelerate the growth rate of hair, and it can also have excellent antioxidant protection for hair follicles.
In addition, many people are still troubled by the "big head", the reason for the oil on the scalp is usually due to the secretion of sebaceous glands. Especially when the scalp is lost in a lot of water, the scalp will stimulate the oil glands to secrete more oil to protect the skin. The oil is even 2 times higher than the skin!
The causes of scalp oil problems can be easily divided into the following two factors:
Internal factors:
1. Adolescence: Due to the influence of hormones, the sebaceous glands become very active and the oil secretion is also more vigorous.
2. Middle-aged: atrophy of the sebaceous glands causes the skin to gradually dry
3. The wetness of the scalp
4. Unhealthy diet: love spicy, sweet food, often stay up all night
5. Stress: affecting hormone secretion in the body
External factors:
1. Weather change: temperature rises, sebum secretion increases
2. Hair care product use error: hair mask nutrients can not only be absorbed by the scalp, but also cause scalp burden
3. Excessive use of hairdressing products (such as styling spray), causing pores to clog and affect blood circulation 

External factors can be improved by adjusting living habits, while internal factors can be supplemented by nutrition.
Product Suggestion

 
Nature's Farm® Hair Pro-GRO offers 25 nutrients, including 2 premium ingredients: Linumlife® Flax Seed Extract and Citrus Bioflavonoids. This formula helps promote healthy hair growth, strengthens hair structure and supports the overall health of the scalp.
Activate the hair follicle in 3 steps:
1) Regulate sebum secretion
2) Promote metabolism
3) Supply hair nutrition
4 unique advanced formula
· Choose patented ingredients from Switzerland - Linumlife® Flax Seed Extract
· Contains bioflavonoids to help promote peripheral circulation and increase metabolism
· Pure natural botanical ingredients, no harmful substances
· Unique formula to protect hair follicles
5 kinds of hair needed nutrients
In addition to the vitamins, minerals and amino acids required for the hairs mentioned above, Nature's Farm® Hair Pro-GRO also adds two premium ingredients, the synergistic effect of Linumlife® flaxseed extract and citrus bioflavonoids. It is more effective in maintaining hair and scalp health.
High quality ingredients of the formula
1. LinumLife® Flaxseed is a patented ingredient from Switzerland. It contains 20% lignan, a potent antioxidant that is rich in phytoestrogens. Clinical studies have shown that it inhibits sebum production and helps balance DHT (dihydrotestosterone) and improves hair condition.
2. Citrus bioflavonoids are extracted from natural citrus fruits and have antioxidant and anti-inflammatory effects to promote metabolism. It also promotes blood circulation to the scalp and helps slow the rate of hair loss.

3. Horsetail extract containing natural silica has antioxidant properties; in addition to providing the necessary nutrients for hair follicles, it also promotes healthy hair growth.
Recommended Dosage
Take 2 tablets daily and take better after meals.
*Note: The hair growth cycle: from degeneration to rest period and back to the growth period, it takes 3-6 months.
Therefore, it is recommended to continue taking 3-6 months for better results.
Hyumi is a certified nutritionist under the Singapore Nutrition & Dietetic Association (SNDA), she has 8 years of professional experiences in providing health consultations & advice for clients and corporates alike, all the while researching & developing new functional ingredients for better formulation. Hyumi obtained her Degree in Food Sciences & Nutrition from University Malaysia Sabah.
Disclaimer
NaturesFarm.com is not intended to provide diagnosis, treatment or medical advice. Products, services, information and other content provided on NaturesFarm.com, including information that may be provided on NaturesFarm.com directly or by linking to third-party websites are provided for informational purposes only. Please consult with a physician or other healthcare professional regarding any medical or health related diagnosis or treatment options.