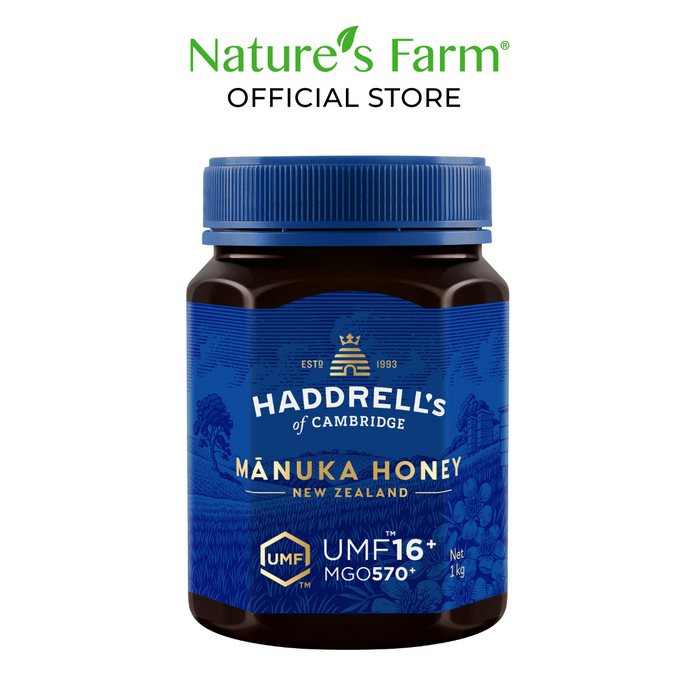 Haddrell's of Cambridge Manuka Honey UMF® 16+ 1kg
The Haddrell's Story
Haddrell's of Cambridge® is one of the longest standing producers of UMF™ Grade Manuka Honey. It was established in 1993 by Richard and Moira Haddrell with a great passion for honey and fifteen beehives. Cambridge is a small rural town in the centre of the lush dairy farming district of Waikato, in the North Island of New Zealand, ideally located close to the pristine hills where the unique Manuka tree grows.
Haddrell's of Cambridge® UMF™ certified Mānuka honey supports health and wellbeing. We guarantee the UMF™ rating of all our Manuka Honey by independently testing every batch by accredited scientific laboratories in New Zealand.
What is UMF? 
UMF™ is a quality trademark that grade Mānuka honey by measuring its Unique Mānuka Factors (UMF™) and certify it with a UMF™ number (from 5+ to 25+). (Read here for more information of the grading system). In short, it assures purity and quality. 
Honey companies that use this grading system are official licensees of the UMF™ Honey Association (UMFHA), which has strict criteria and audits its members' packaging and marketing material. Both Nature's Farm and Haddrell's of Cambridge® are members of the UMFHA
Rating of Manuka Honey 
UMF <10+ For health maintenance
UMF 10 - 14+ Ideal for better immunity and increased energy level
UMF = 15+ Superior levels with very high activity levels for therapeutic usage for example sore throat.
Health Benefits
Manuka Honey is a premium source of nutrient, and naturally rich in amino acids, vitamins & enzymes.
A higher rating of UMF® indicates a better quality of nutrients.
What is the difference between UMF & MGO?
UMF and MGO are two individual grading systems . UMF™ is a complete and advance grading system that measures.
MGO Levels
Additional testing of authenticity markers such as Leptosperin and Dihydroxyacetone (DHA)
Hydroxymethylfurfural (HMF) – Quality marker to guarantee the honey has not undergone excessive heating. The MGO Manuka Honey grading system simply and directly reflects the MGO (methylglyoxal) content of the honey. An MGO rating is a standardised measure of methylglyoxal content and is an indicator of quality. Both UMF and MGO grading systems are precise and reliable tests. However, there have been reported cases where artificial DHA and MGO has been added to increase the anti-bacterial properties.
As such, the UMF grading system is the best indicator for authenticity, purity and quality of Manuka Honey as compared to MGO
Ingredient list: Manuka Honey
Recommended dosage: Take 1 teaspoon 1-3 times daily (Do not feed to infants under 1)
Product of New Zealand