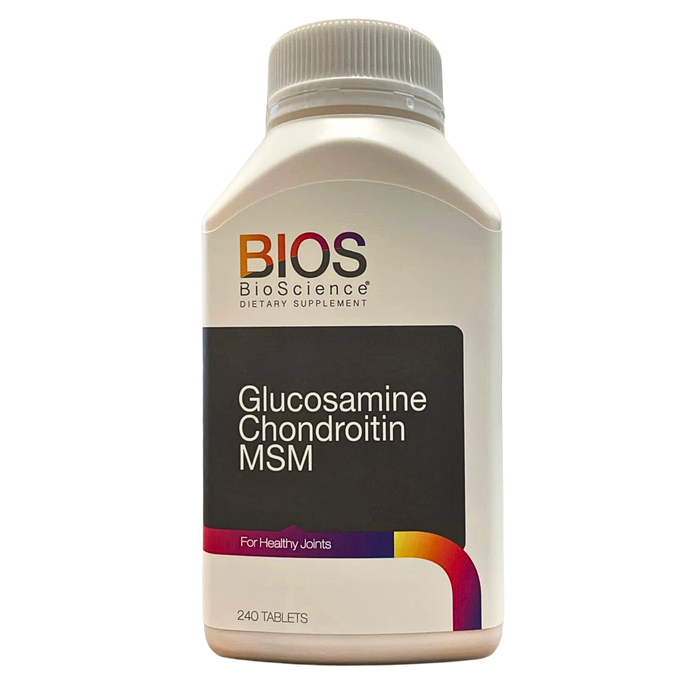 BioScience® Glucosamine, Chondroitin & MSM 240s
BioScience® Glucosamine, Chondroitin, MSM — a combination of three ingredients that works synergistically to deliver daily nutrition to support healthy joints. It is beneficial in the management of pain & inflammation and protects against further degradation of cartilage.

Uniqueness:
Glucosamine is a building block of healthy joints and it supports and nourishes connective tissues and cartilage.
Chondroitin sulfate is important as it works synergistically with glucosamine. BioScience® Glucosamine, Chondroitin, MSM meets the golden ratio of Glucosamine and Chondroitin at 5:4 - the best ratio suggested by many health experts for better efficacy.
MSM (Methylsulfonylmethane) is an organic sulfur compound and it serves as a natural pain reliever and anti-inflammatory agent to inhibit pain factors. 
 
Health Benefits: 
Joints
Maintain existing cartilage, stimulate growth of new cartilage & repair damaged cartilage
Promote joint mobility & flexibility
Lubricate and rejuvenate joints
Ease the common symptoms associated with joint conditions
Read here for more research!
Skin
Improve skin health and complexion
Strengthen hair and nail texture 
Normalize collagen formation
Ingredient list:  Glucosamine, Chondroitin, MSM
Recommended dosage: Take 3 tablets daily, after a meal