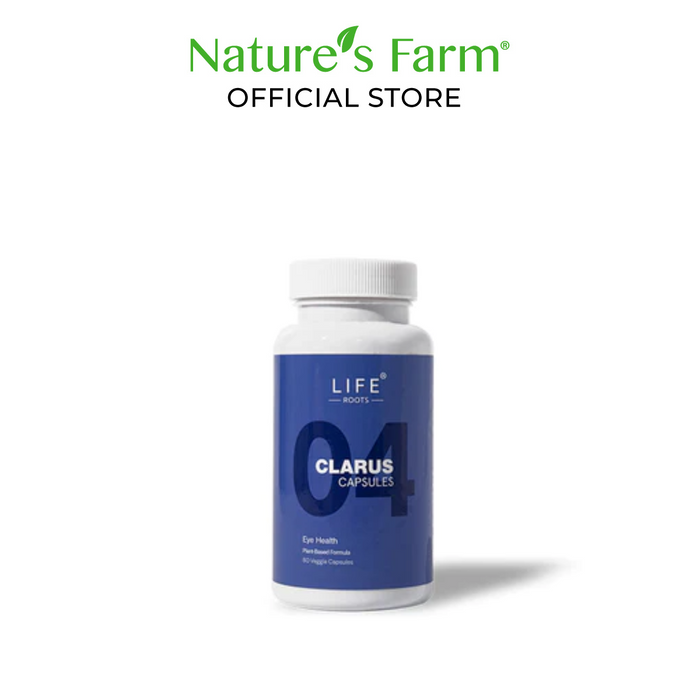 Life Roots Clarus Eye Capsules (60 veggie capsules)
Eye Care Capsule
Clarus Eye Capsule supports clear vision, improves energy and focus, and promotes overall eye health using natural plant-based anthocyanins and carotenoids (astaxanthin, lutein and zeaxanthin) which are powerful antioxidative phytonutrients that enhances care for the eye by reducing light-induced impacts and promoting healthy blood circulation in eye capillaries. These essential nutrients promote care for the eye from continuous exposure to harmful visual displays and oxidative effects from the environment and the aging process.
Health Benefits:
Reduces impact of blue light exposure
Improves energy and focus
Supports overall eye health
Individual responses may vary.  For sustained results we recommend taking this product for at least a month. 
Main ingredients (per capsule):
Bilberry (250mg with 20% anthocyanins), Marigold (120mg with 5% lutein), Haematococcus Pluvialis (100mg with 1% astaxanthin) , Artichoke (50mg).
Suitable for:
Floaters symptoms
Eye dryness
Eye fatigue
Direction: Recommended for ages 14 and up.  One to two capsules daily
Storage: Store in a cool place, away from direct sunlight.
Caution: 
For those on medication, pregnant or nursing, consult a doctor before use.
If symptoms persist, stop use and consult a doctor. Keep out of reach of children.
This product is not intended to diagnose, treat, cure, or prevent any disease.
Gluten-free and Vegan-friendly