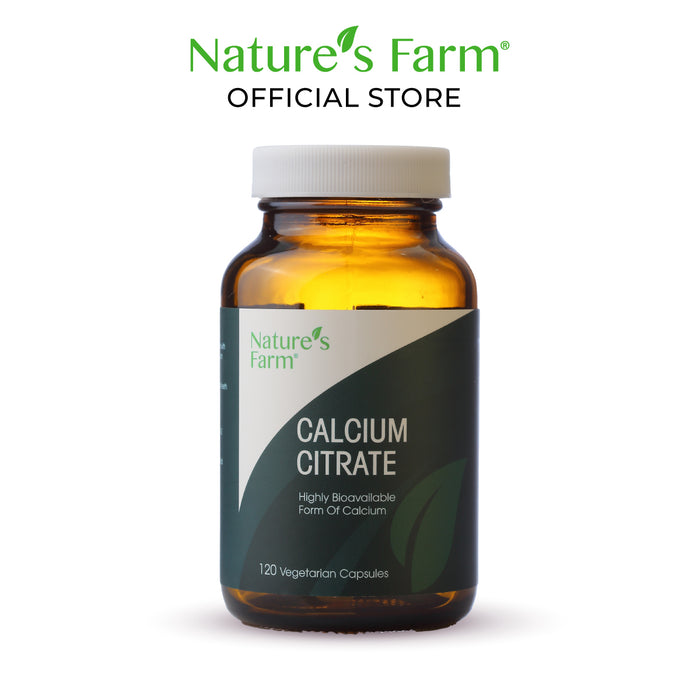 Nature's Farm® Calcium Citrate
Nature's Farm®Calcium Citrate is packed with bone essential nutrients (highly absorbable form of Calcium-Calcium Citrate, Magnesium & Vitamin D) and enhanced with Betaine (that facilitates calcium absorption) to support bone development, muscle contraction and healthy nerve function. Calcium Citrate contains 21 percent elemental calcium.
Uniqueness:
1. One capsule gives 475mg Calcium Citrate with 100mg elemental calcium. Calcium supplements are used to prevent and to treat Calcium deficiencies. Office of Dietary Supplements (National Institutes of Health)recommends that no more than 500 mg of supplement should be taken at a time because the percent of Calcium absorbed decreases as the amount of Calciumin the supplement increases. Therefore, it is recommended to spread doses throughout the day. Recommended daily calcium intake for adults ranges from 1000 to 1300 mg.
2. Vitamin D is added to the formula. Proper Vitamin D status is important because Vitamin D is converted to a hormone in the body, which then induces the synthesis of intestinal proteins responsible for calcium absorption.
3. Magnesium is required for the proper growth and maintenance of bones. Magnesium is also required for the proper function of nerves, muscles, and many other parts of the body. Magnesium and calcium metabolism are closely related.
4. Betaine HCL assists the body's natural stomach acids in the digestion and absorption of nutrients, especially Protein, Calcium, Magnesium, Phosphorus, Iron, and B12.
5. The use of calcium as a supplement is warranted to help improve bone health by building greater peak bone mass and slowing the rate of bone loss after menopause (Comparative Absorption of Calcium Sources and Calcium Citrate Malate for the Prevention of Osteoporosis, Lyn Patrick, N.D., 1999).
6. Calcium Citrate appears to be better absorbed compared with Calcium Carbonate when taken with food or more bio available (Lamy, O., & Burckhardt, P. Calcium revisited: part II Calcium supplements and their effects. Bone KEy Reports, 3, 579.2014).
Health Benefits:
Promote development of strong bones and teeth
Maintain healthy nerve function
Support muscle contraction
Ingredients list:
Calcium Citrate, Magnesium, Vitamin D and Betaine HCl
Free of Wheat, Gluten, Soy, Milk, Eggs, Artificial Colours and Preservatives
Recommended dosage: 
Take 2veggiecapsules,1-2 times daily,after a meal
Pack size:
120capsules per bottle
Product of USA
GMP Certified
Vegetarian Formula