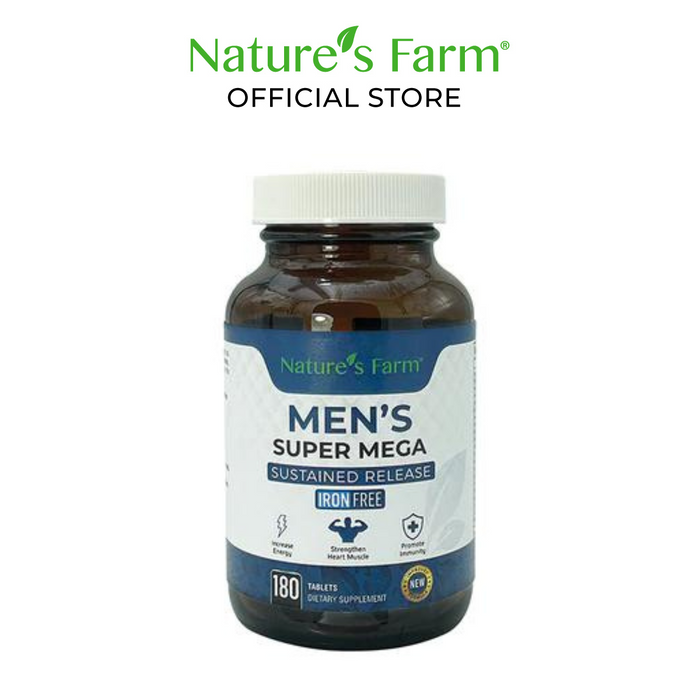 Nature's Farm® Men's Super Mega 180s
Nature's Farm® Men's Super Mega improved formula is an ultra-potent multivitamin, that is packed with a comprehensive health nutrition library with 48 vitamins and minerals including vitamins A, B, C, D, E and K1, with addition of Proprietary Herbal Blend, Proprietary Digestive Blend and Heart and Liver Strengthening Blend to provide holistic approach to overall health and well-being.
Uniqueness:
1. It provides a complete spectrum of nutrients in optimal potencies to improve the everyday wellness of men. As most of us may not regularly consume a balanced diet with sufficient fruits and vegetables intake, a multivitamin is often beneficial to help bridge any nutrition deficiencies.
2. Formulated with proprietary blend of herbal ingredients such as Branding ingredients KSM-66 Ashwagandha, Black Garlic, American Ginseng, Cistanche Tubulosa Extract and Artichoke to provide targeted health benefits as follows:
Branding ingredients KSM-66 Ashwagandha - Clinically proven to help reduce stress, cortisol levels, and stress-related food cravings.
Black Garlic - Protect the heart and blood vessels.
American Ginseng - Boost the immune system and balance blood sugar levels.
Cistanche Tubulosa Extract - Improve brain functions, prevent aging or fatigue and boost immune strength.
Artichoke - Aid the quality and flow of bile from the liver, support liver health and liver cells regeneration.
3. Iron-free formula: Man's body absorbs iron quite efficiently, without much chance of iron loss. Too much iron may increase risk of developing heart disease and cancer in men.It is recommended that men get their iron from food sources instead of supplementation
Recommended dosage: Take 4 tablets daily, after a meal
Free of Yeast, Wheat, Milk, Eggs, Artificial Colours and Preservatives
Product of U.S.A.