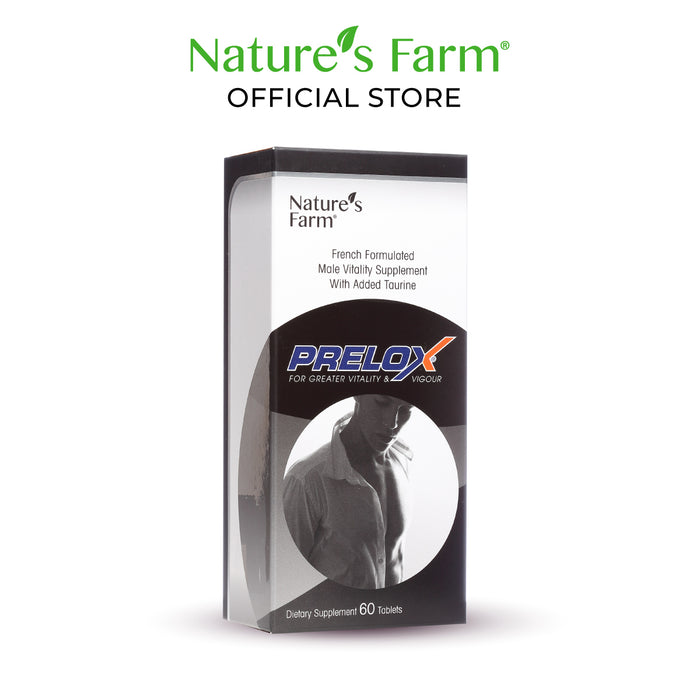 Nature's Farm® Prelox, 60s
Prelox® is a patented formulation clinically proven to increase a man's ability to sustain energy. Prelox® can help recapture the pleasure and passion that time diminishes. Prelox® can help revitalize your performance, relieve anxiety, confidence and achieve the satisfaction.
Health Benefits for Men:
Promote endothelial health and blood flow
Improve energy level and stamina
Relieve anxiety and revitalize performance
Uniqueness:
According to 'The Massachusetts Male Aging Study' 52% of men between the ages of 40 and 70 need to improve their prostate health (The Massachusetts Male Aging Study (1987-2004), O'Donnell AB, Araujo AB, McKinlay JB.)
Prelox® is a proprietary blend of L-Arginine Aspartate, Taurine and Pycnogenol® (French maritime pine bark extract). Together they increase nitric oxide production, stimulate circulation and blood flow and protect blood vessels from the damage that can occur from normal aging. This combination has a beautifully synergistic effect on blood flow into the vessel and enhances responsiveness, stamina and enjoyment.
Japanese researchers led by Dr. Nishioka have shown in healthy volunteers that French maritime pine bark extract Pycnogenol® naturally enhances the ability of arteries to expand for enhancing blood supply to organs. This represents the fundamental reason why Pycnogenol® contributes to better men health (Nishioka, Kenji , et . al, "Pycnogenol French Maritime Pine Bark Extract, Augments Endothelium-Dependent Vasodilation in Humans," Hypertension Research (2007 ) 30, pp. 775-780)
In Prelox® the key component Pycnogenol® accelerates production of nitric oxide while the second component L-arginine ensures sufficient supply of the starting material. The synergistic activity of both components in Prelox® is patented.
Aspartic Acid and Taurine further enhance the effect for prolonged stamina and alleviate muscle fatigue for longer lasting endurance and performance.