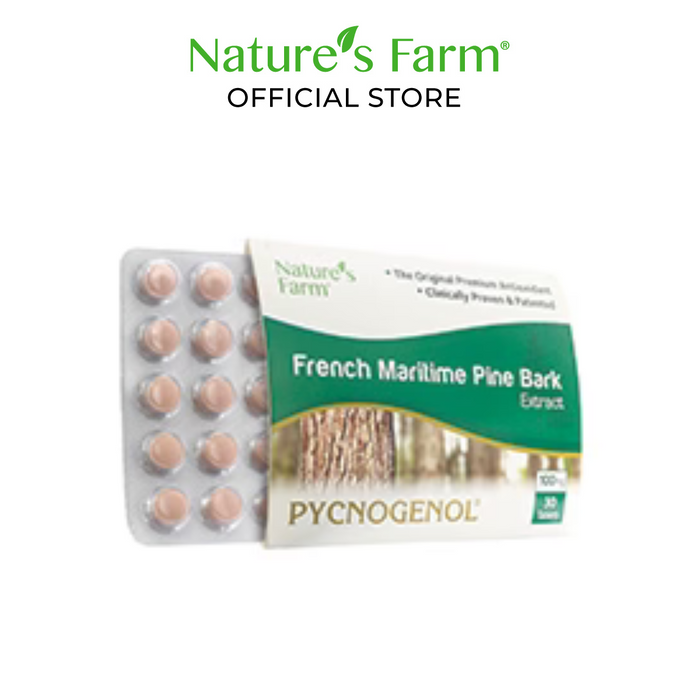 Nature's Farm® Pycnogenol® 100mg 30s
100% Pure, Authentic, Patented & Clinically Proven Antioxidant
Pycnogenol® is a natural plant extract obtained from the bark of the French Maritime Pine Tree, pinus maritima.
As one of the most powerful antioxidants in the world, Pycnogenol® works extensively to fight the corrosive free radicals that damage the body cells. It has an antioxidant action that is more than 100 times more powerful than Vitamin E and Vitamin C, and 16 times more active than grapeseed extracts.
It is the ultimate supplement for improving general health, including brain, eyes, heart, joint, blood sugar, skin and almost every part of the body!
The benefits and results of Pycnogenol® are proven in more than 300 scientific studies over 40 years of research. On top of that, Pycnogenol® is granted patents for cardiovascular health (US Patent No: 5,720,956) and menstrual discomfort (US Patent No: 6,372,266).
Benefits of French Maritime Pine Bark
1. Improves cardiovascular health
2. Strengthen blood vessels and capillaries
3. Maintains healthy blood glucose levels
4. Increases nitric oxide levels naturally to improve blood circulation
5. Improves skin firmness, elasticity and resilience
6. Improves oral health
When it comes to choosing a supplement to increase the overall health and vitality, nothing works better than French pine bark extract. It has all the essential ingredients to ensure a healthy and happy life. 
Suggested Usage:
Take 1 tablet 1-2 times daily after meals